VMU Career Centre has moved to a new premises!
Joyfully anounce that
since 2017.05.15 VMU Career Centre has moved to a new premises,
S. Daukanto str. 27, room 301.
We are waiting VDU students and graduates applying for individual career consultations.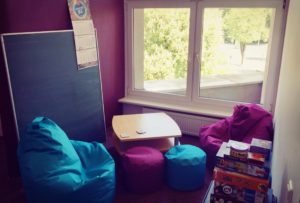 In the Career Centre you may get free, confidential and private career consultations.
Depending on your individual need your consultation will include one or more of the following:
Taking career decisions (e.g. if you have some doubts on the study programme, future profession (job) that you have chosen);
Writing CV (Resume) and cover letter or improving ones you have already written;
Developing the strategy of searching for a job, internship or volunteering place and choosing the most effective ways to do it;
Evaluating you current career situation and planning further steps;
Getting to know yourself better – clarifying your values, interests, your strengths and skills;
Getting prepared for a job interview and "practicing" for it;
Creating your own career vision, setting career goals, planning its implementation, etc.
To book a consultation or for more information contact us:
By an e-mail: career@vdu.lt
By phone: (+370 37) 327 983
By visiting the Career Centre (S. Daukanto str. 27, room 301.)