OPPORTUNITIES: Catalogue of Internship and Volunteering offers
Are you looking for Internship or Volunteering opportunities?
Right here in front of you is the ninth Catalogue of Internship and Volunteering Offers, which was issued by the Career Centre of Vytautas Magnus university. In this catalogue students will find internship and volunteering offers of enterprises, public institutions, non-governmental organizations. We are hoping that each of you will find something useful in the pages that follow!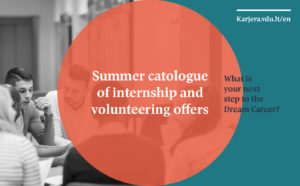 FOLLOW THE LINK:
Catalogue of Internship and Volunteering Offers No. 10 / April, 2019
The catalogue provides a standardized presentation of enterprise, institution or organization which is offering internship or volunteering opportunities, indicates the name and conditions of the offered internship / volunteering position. Each publication of an offer includes information about ability to combine activities with your studies, about the period of internship / volunteering, specifies which of offered positions are adapted for students with disabilities and which activities are organized in foreign languages.
VMU Career Centre is not responsible for the content of the offers published in the Catalogue. Companies and organizations decide themselves about the conditions of internship and/or volunteering.
We hope that this catalogue will help you to find a place of internship or you will use an opportunity to test yourself in volunteering, which will be useful in finding your path to labor market!
For more information:
VMU Career Centre
Address: S. Daukanto str. 27, room 301, LT-44249 Kaunas
Website: www.karjera.vdu.lt/en/
Phone no: +370 37 327 983
E-mail: career@vdu.lt